Do you know the percentage of viewers that know their local channel numbers vs. the name of the network? We don't, but we'll venture to say many of them. With streaming providers offering ~40,000 TV episodes and movies in their catalogs, you can't blame the viewer for "network blindness". A recent study from Hub Entertainment Research says with so many TV shows, almost half of viewers find it hard to know where to start. Improving the search experience seems like a good place to help out right?
As personalized customer experiences are a top priority for TV networks, it's clear that the next frontier is applying localization to the way that their audiences explores and consumes content. Viewers should be able to visit a website and all corresponding digital experiences to see the regional channel lineups, numbers, add-on pricing, and languages that are applicable to their home.
Here's why you should care:
Lean Teams & Technology
As your budget is likely smaller and your execs ask you to do more with less, technology plays an increasingly key role in automating everyday marketing tasks. This will extend into localized search, too.
Localizing and distributing digital content for national audiences is so complicated and arduous, many networks try to just ignore it. But this isn't your first car, and you cannot just turn up the music to drown out the clear issue. Good news for you is that there's technologies that are eliminating the cost and challenges associated with website and omnichannel search localization, while preserving the lean sizes of your marketing team.
The Omnichannel Surge
In the truly information-democratized marketplace of 2019, it won't be enough to localize only your company's website. Your viewers will interact with your brand in various channels at any given time, across their journey with you.
That includes, but not limited to:
Social media
Mobile apps
Email and newsletters
Search
Online customer support
Third-party distribution platforms (i.e. Amazon)
Localizing search and content for these channels can help elevate brand awareness, cultivate brand loyalty, and drive revenue.
The Power of Personal
Forward-thinking networks already know that technology plays a critical role in the future of marketing to digital customers.
And while content is the backbone of the digital TV experience, it becomes ever-important to ensure that every viewer experience is uniquely tailored to them. Search is no different. Whether it be the air times or the ever-changing channel numbers, you should make finding content as simple as possible.
Introducing ShowFinder
We've been keenly aware of this need, so built a localized search solution for TV marketers – ShowFinder.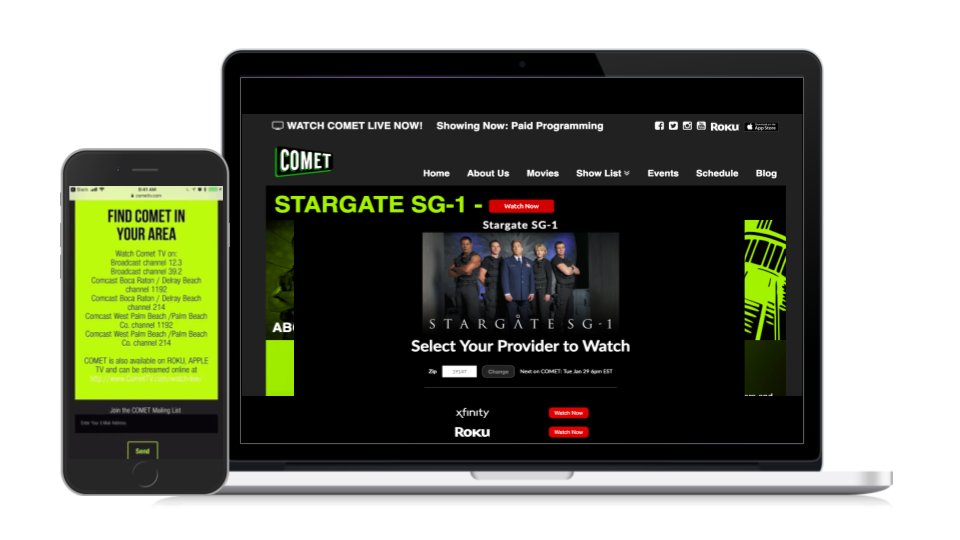 It's pretty simple – we give you a short line of code, you embed into your website, and every show listing, channel number, and time is localized for every viewer. What does this do?
Integrates directly into your network website like a channel finder
Includes channel number by operator, date, and time of airing
Links to OTT providers as well as Watch or DVR (where available)
So what does this mean to you and your marketing strategy?
Increase Marketing Effectiveness: Improve campaign KPIs and customer experience while reducing support needs
Personalize Product Exploration: Encourage content discovery, sharing, and viewing for awareness and conversion goals
Better Digital Experience: Feature customizable content and search journeys to improve user experience and overall sentiment of brand
We're in an era where trust is critical and the volume of horrible digital experiences is at an all-time high. It's the smartest networks that will turn to the power of personalization and localization to meet their viewers where they are to create a truly distinctive customer experience.
Want to learn more about ShowFinder? Drop us a note.