Until recently, SMS marketing has been largely ignored by marketers. But we took one look at the industry statistics and decided we needed to develop a product that addressed what the marketplace was so clearly embracing.
With a whopping 75% of consumers open to receiving SMS messages from brands, SMS response rates at an unbelievable 209% higher than phone, email and Facebook, and SMS open rates at an unheard-of 98%, we came up with an SMS marketing solution that takes things to the next level, called VuSMS.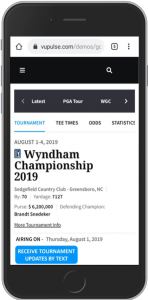 The innovative solution's power is its simplicity – it harnesses the power of SMS to engage TV and video viewers and drive them to interact from mobile. This forges deep personal connections with consumers, drives direct response and immediately converts awareness into viewership.
The initial launch has been specifically designed for TV networks and movie studios, but the solution has broader implications for other verticals and includes the ability to:
Schedule SMS messages to alert viewers:

their desired show is starting
to set their DVR to capture a show
to remind them to download an app

Collect viewer email addresses and phone numbers
Easily integrate with website and social pages
VuSMS cultivates brand loyalty, engaging fans for ongoing content series, events & promotions – all in a native and brand-safe environment. The solution also offers seamless integration across website and social platforms, enabling rich audience cultivation and robust data collection.
As you may have noticed, we're pretty excited about it and encourage you to check out additional details here and be in touch if you'd like to know more!